How to Run Facebook Ads for Local Businesses: Driving Foot Traffic
#1: Create Your Store Traffic Facebook Ad Campaign
Facebook's Store Traffic campaign objective can help you generate more foot traffic for your local business. It lets you add a Get Directions call-to-action (CTA) button to your ad that will open a map to your store location.
For this tutorial, we'll be setting up a Facebook campaign for a fictional restaurant to target people in the local geographic radius around the restaurant. However, these same principles apply to whatever local business you're running.
To set up your campaign, open Ads Manager and click the Create button.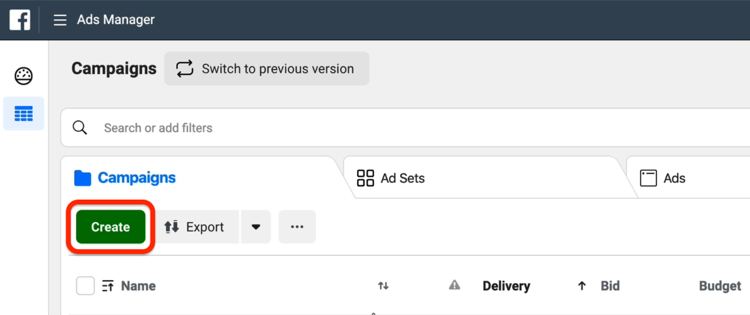 In the Quick Creation window, give your campaign a name. Then select the Store Traffic campaign objective and your Facebook page.
Next, set a budget for your campaign. I recommend starting with a low daily budget such as $5.
For the ad set name, I like to choose a name that's related to the audience (such as "People within 5 miles"). For the ad name, select something that's based on the ad creative ("Entree Special Promo," for instance) so when you hop into your campaign, you'll immediately know what it is.
When you're done, click Save to Draft to move to the ad set.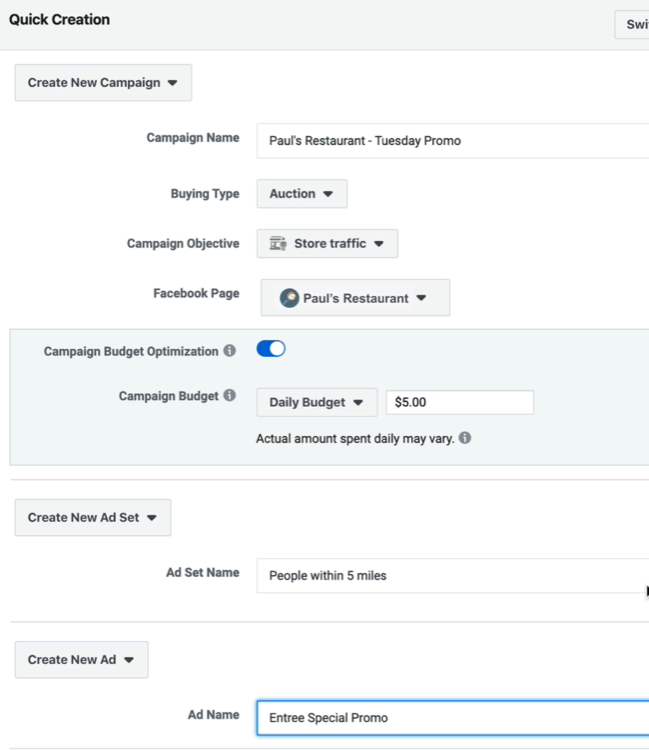 #2: Choose Your Targeting
At the ad set level, choose your store page and select a store set.
It's important that you have your local ads set up correctly from your Business Manager and Facebook page before you run these ads. When you do it correctly, you'll be able to choose all of the stores and their respective locations.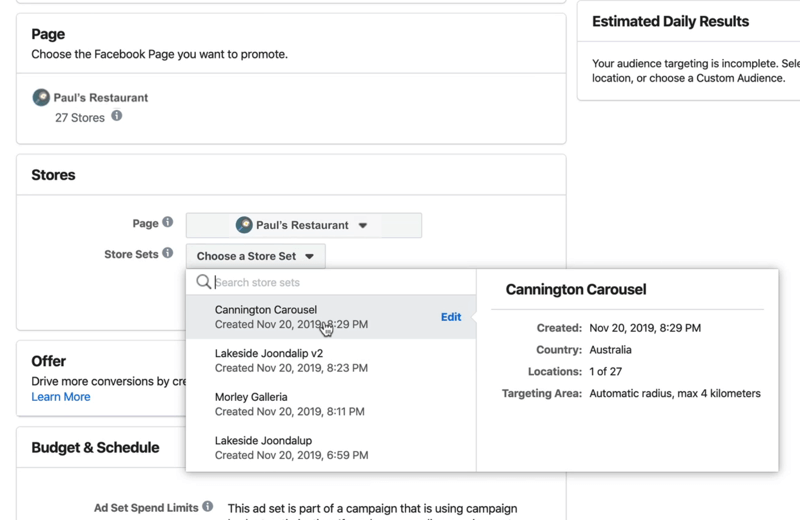 Now finish building out your targeting. In this example, we're targeting people between the ages of 22 and 35 in an area around the store set.
But what if you don't already have a local store set up inside Facebook? In this case, click Target a Geographical Area Instead in the Locations section.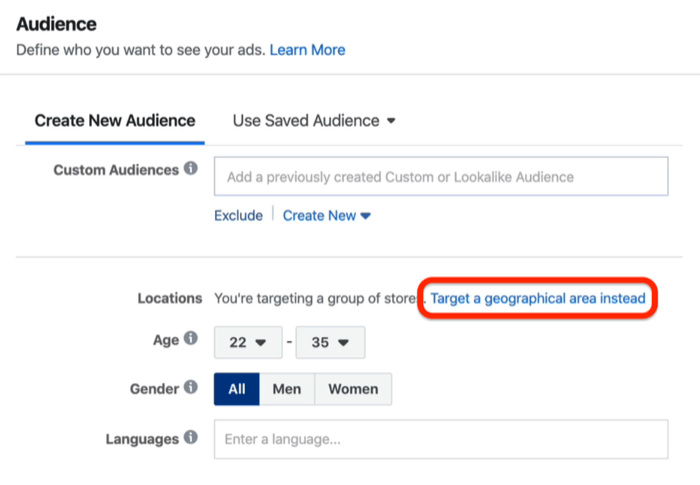 In the Add Locations field, type in the actual physical location of the geographic area you want to target. Ads Manager then puts a radius around that address, as shown below.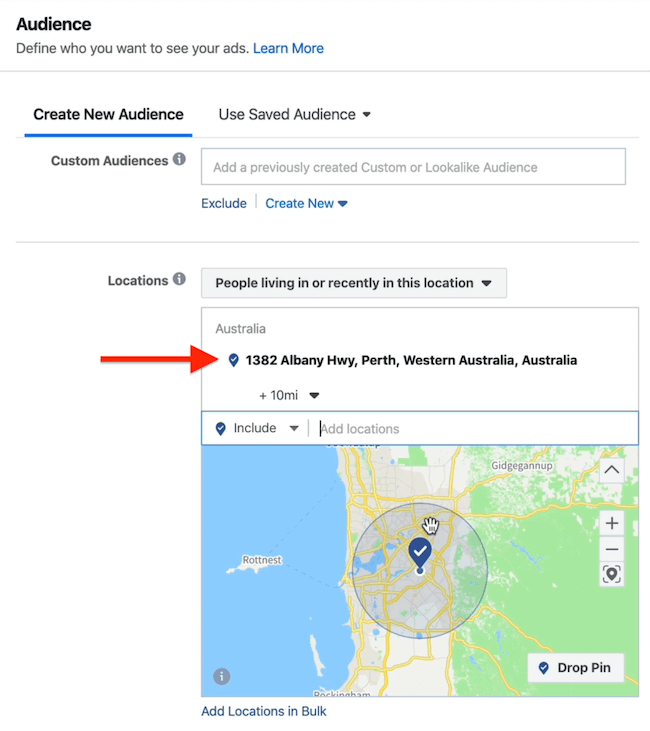 If you click the drop-down menu below the address you just entered, you can change the targeting to anywhere between 1 mile and 50 miles.
We want to make the radius as small as possible around our store location so choose 1 mile.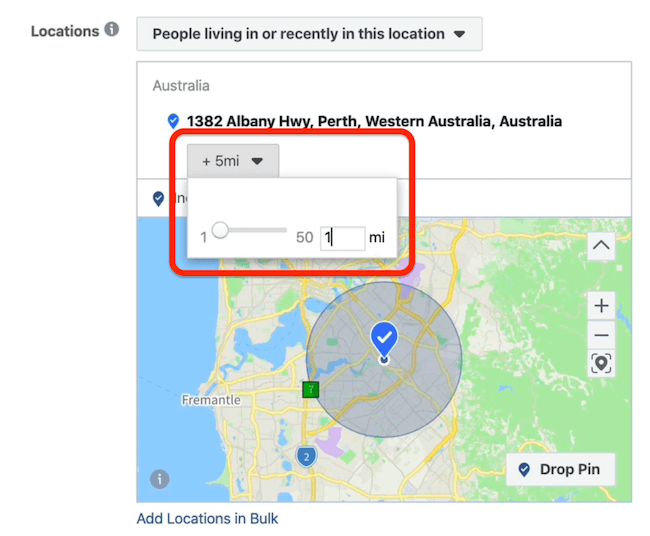 From the Locations drop-down menu, you have the option to run your ads to people who live in or were recently in this location, people who live in this location, people who were recently in the location, or people who are traveling in this location. We'll be choosing people who were recently in this location.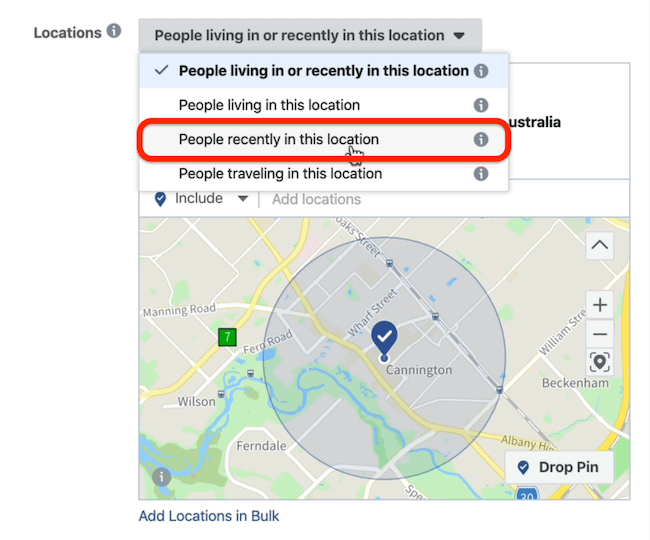 Refine Your Geographic Targeting With Exclusions
If you want to further refine your location mapping, you can exclude areas from your targeting inside of the ad set. This allows you to reach more of the relevant targeted audience area when you're running your ads.
For this example, we're targeting a shopping center and we only want to target the people who are physically inside the shopping center and our store's location. So how do you do that when the minimum radius you can tie it to is 1 mile? By using exclusion pins.
To do this, click the Drop Pin button and then click on the map near your other pin to drop this second pin.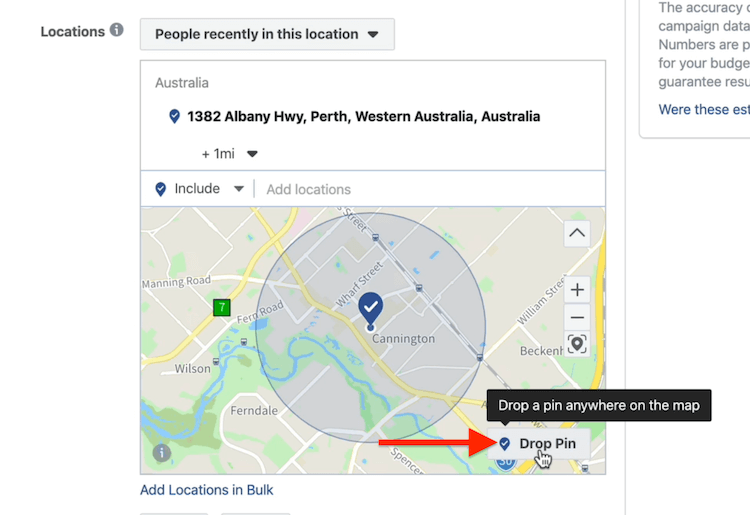 Now decrease the pin size to 1 mile.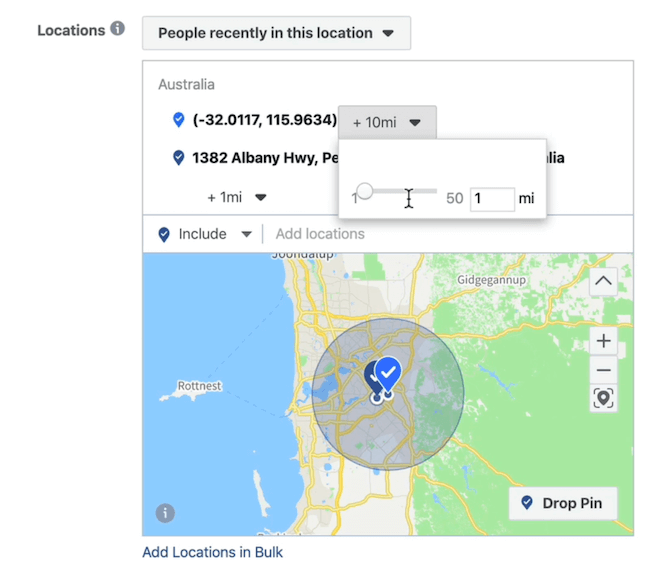 Next, click the down-arrow button next to the longitude and latitude of the pin you just dropped and select Exclude Location from the drop-down menu.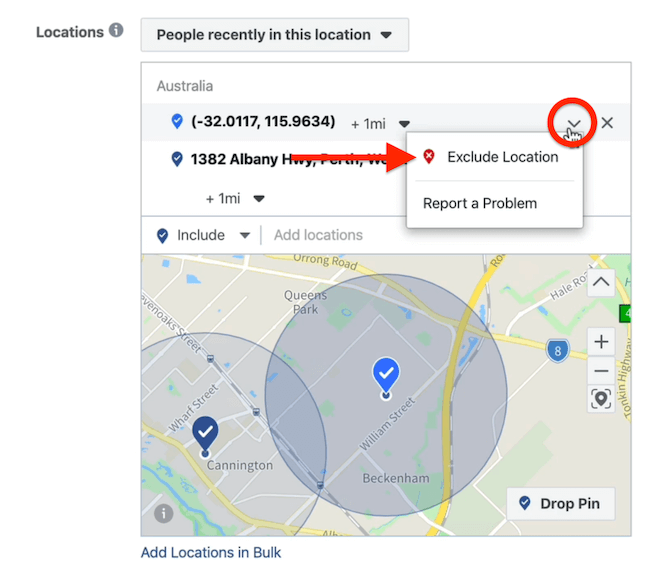 You now see a red radius around your second pin. In the Venn diagram below, the overlap between the red radius and blue radius represents the area you're excluding from your targeting.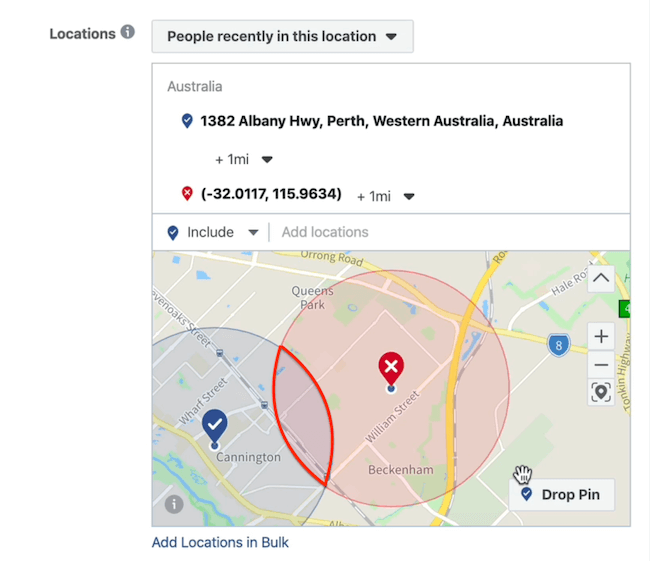 Now repeat this process to add other areas to exclude from your targeting.
In the image below, all of the areas of overlap are excluded and we're only targeting the nice little blue Venn diagram area in the middle. The potential reach has decreased from about 27,000 people to 12,000 people.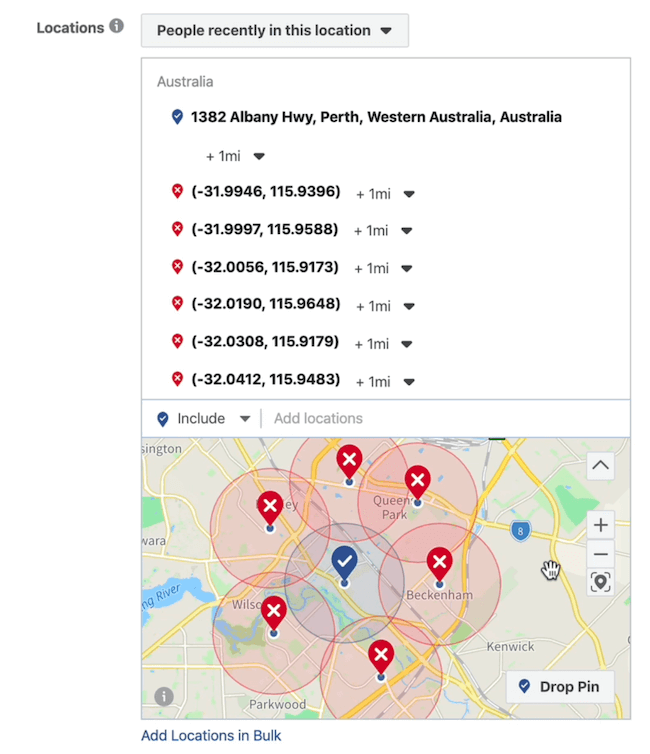 If you have a highly populated area, this is fantastic to use. However, if the area is less densely populated, this may not be the best approach.
The other really cool thing about exclusions is that they allow you to target your audiences wherever they may be at a certain time, like at an event.